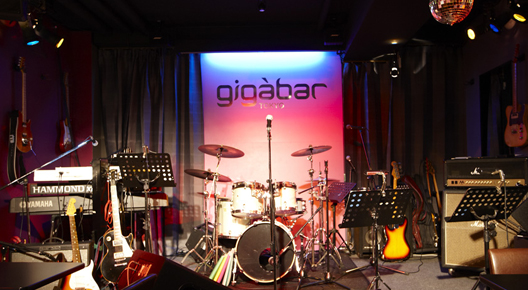 A "GIG" refers to giving a performance on stage. GIGABAR TOKYO combines the concept of a GIG at BAR to create a new style of dining bar where individuals can enjoy a GIG.

We have prepared a request list of more than 200 global hits that crosses generational lines from rock classics to modern hits of both rock and pop.

Our house band made up of professional musicians performs 4-5 sets every night. However, guests don't have to just sit there and listen to the music, but can also participate as part of the house band. Of course all the instruments are provided by the bar, guests can even get together with friends and play an impromptu jam session.

We also have a rich menu of both alcoholic and non-alcoholic drinks to go along with our expanded food and dessert menus meaning anyone can have a great time whether they perform with the band or just want to sit around and relax.

Whether you like to play, perform, drink or just love live music there is ONLY ONE LIVE BAR where adults can get together and enjoy great live music, and that place is GIGABAR TOKYO!

about GIGABAR TOKYO
■Business Hours: 18:30pm – 2:00am
■Stages: 19:30pm – 24:00pm
■System: 2000 Yen Bar Charge (cover), ServiceTax 10% , Drinks from 600 yen, Food from 500 yen, GIG Change (participation fee) 1000 yen/song
■Address: HT Minami Aoyama Bldg B1F, 7-11-4 Minami Aoyama, Minato-ku, Tokyo 107-0062
■Phone: 03-6427-5777


■LIVE STAGE
20pm – 23:45pm

*Each stage will last approximately 45 minutes.

・For both song and performance requests, a request sheet can be found in the music menu file. We ask that all requests are given to the staff at least 5 minutes before stage time.

・We will make every effort to provide any requests for changes in style or other request if possible.

・Guests can also request songs to be performed by the house band.